I'm sure that for many, 2020 hasn't quite been the year we had hoped for, however with hard work and dedication, the incredible spirit of our Museum proved difficult to suppress.
Dana Skelley OBE joined us as Chair of the Board of Trustees in January. Dana brought a wealth of experience to the Charity and led us through what has been an extremely challenging time. We were also pleased to welcome Kathy Adams, who joined as Treasurer in April just one week into the first lockdown! Kathy has done some excellent work alongside our volunteers to streamline existing financial processes and has already had a huge impact, helping to steer the organisation though some particularly choppy waters!
Thanks to some incredible support from the National Lottery Heritage fund back in Spring, the Museum was able to continue the development of The Brunel Museum Reinvented project, whilst also supporting our general operations throughout the first lockdown period. Our plans continue to evolve at pace, led by Jane Stancliffe and Julian Ayre, who are engaged daily with our fantastic design team from Tate Harmer. We've conducted extensive community surveys and consultation events to make sure that our plans are fully informed – it's an exciting time for the Museum and we look forward to taking this project to the next stage in 2021.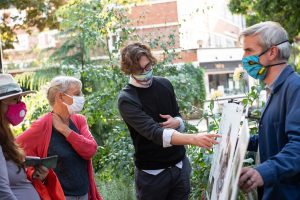 We were joined by Dr Cathy Putz as Director in May. Cathy supported the Museum in remobilising, orchestrating the development of Risk Assessments and training our Volunteers to ensure that we were able to deliver our activities with the additional safety measures required to operate in a COVID-19 environment. Cathy worked hard to understand how the museum could support the local community better in the future – this research will prove invaluable in 2021 as we look to launch a number of additional activities in the new year.
Our Learning and Volunteer Manager, Clara Pereira, also worked hard to host events which involved young families. Our activities proved a great hit throughout the summer, with treasure hunts, Brunel hat making, competitions, watercolour paintings (a la Marc Brunel's original Thames Tunnel designs) and bridge-building sessions all proving incredibly popular.  There were even Victorian Christmas online activities. We look forward to welcoming schools and community groups back to the site in the new year!
In addition to the support from the National Lottery Heritage Fund, the Museum was awarded further funding by the Arts Council in October. With these funds, the Museum will develop its offering further, making much needed improvements to the site – including installation of heating and Wi-Fi in the tunnel shaft! This will turn the shaft into a year-round event space, supporting activities such as movie nights, live streaming lectures and comedy events – there are so many new ideas to explore. As well as this, we have some great plans already underway, including a new Escape Room and Farmers Market which are planned for 2021. Thank you to all our Funders and the great work of the whole team in making sure the Museum has the funds necessary to continue its work. Also a huge thank you to Khalil Mohammed, who continues to manage the delivery of various upgrades across the site.
Despite the lockdown, Cocktails with The Midnight Apothecary have proved a huge hit throughout 2020. Lottie and her team have proved that even faced with COVID-19, events can still go ahead – albeit in a slightly modified way. The rooftop garden is looking as beautiful as ever and these enchanting events continue to wow our visitors. If you are in the area over the coming months, please check out the famous Hot Toddies and take out Beef Chilli (or the Vegan Chilli, should you desire) with all the trimmings. We look forward to the Spring where the hard work of our gardening volunteers will no doubt usher in a spectacular display of flowers, herbs and ingredients ready for our Apothecary fans. Please pre-book though – all Midnight Apothecary events (except take-away chilli) need a reservation. Once tickets are on sale for the new year you will find them here.
Our volunteers have proved their mettle once again this year, supporting the Charity through what we hope will prove to be its darkest hour. Faced with double lockdowns and disruption to all of our planned activities, our volunteers have continued to show their dedication throughout. Our shop range has been expanded, our social media footprint has grown many times over and we have a new suite of walking tours ready for launch in the new year. Our volunteer team has also grown this year – we are pleased to welcome a number of new team members! If you would like to support the museum by volunteering in 2021, please do get in touch via the link below!
It goes without saying, that we can't operate now or in the future without the support of our volunteers – thank you all so much for what you have done.
2021 brings the arrival of a new Director to the Museum. Katherine McAlpine joins us, bringing experience from The Imperial War Museums and HMS Belfast. Katherine has already met some of the volunteer and staff team – we are all looking forward to working together in the new year. Welcome Katherine!
When faced with a year like 2020, it's easy to get disheartened. However, despite COVID-19, we are cheered by the efforts of the whole team to keep the Museum going. Moreover, thanks to these efforts, we approach 2021 in a far better position that we would have otherwise!
But when its gets really difficult – when things continue to pile up and it all feels insurmountable, it's important to think what Brunel would have done in the face of such a challenge. That's right; he'd buckle down, pull his socks up, and keep moving forward. Come to think of socks, have you seen these? (What a great stocking filler!)
Thank you all so much for your support throughout what has been a really difficult year. Thank you in particular to our Volunteers, Funders and Staff – you have all been wonderful.
With best wishes from the whole team at The Brunel Museum,
See you in 2021!
Want to support our Museum? Please donate using the link below – or better still, become a Friend and keep in touch!