We know that many of our visitors are Brunel enthusiasts and have collected or inherited various wonderful items. This gem is from the collection of volunteer Gill Howard. What treasures of Brunel memorabilia have you collected?
Brunel's Own Copy of An Explanation of the Works of the Tunnel Under the Thames from Rotherhithe to Wapping

Printed by W.Warrington, London in 1839 this plan of the works is illustrated with nine leaves of engraved plates, three of which fold out and one has an overlay showing workers within the tunnel.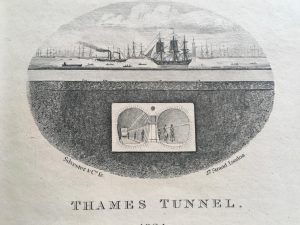 Illustrations include architectural and engineering diagrams for the project, the frontispiece shows a complete section of the tunnel lit with gas lamps. Diagrams also demonstrate exactly how workers were able to remove the earth and lay bricks and show the tunnel's progress relative to landmarks above ground.
The inside cover has the name and address Brunel 18 Duke Street, Westminster in Marc Brunel's handwriting and also pencil notes and corrections on page 24.
At the time that this booklet was published just 640 ft of the planned 1,300 ft had been completed. It is likely that the booklet was an effort to increase public interest and enthusiasm for the project at it's midpoint.
Help us keep this vitally important historic site and much-loved community hub open, which has been affected by the COVID 19 crisis. We need your support to help us to continue to deliver our core learning and engagement aims, focusing on the story of the Brunels and how their achievements remain so relevant to our lives today.