It is an absolute privilege to be writing my first blog as Director of the Brunel Museum. Although I've been in post just over two weeks-plenty has been happening!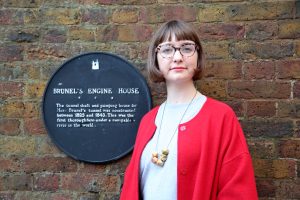 To say 2020 was a challenging year would be an understatement, and in many ways the beginning of  2021 hasn't felt much different. But I am buoyed by the story of the Thames Tunnel itself. Despite continuous setbacks and financial difficulties, the tunnel triumphed. Today,  part of the London Overground, the tunnel is a testament to adaptability and perseverance. 
As a museum fighting to secure our financial future, we're going to need plenty of both. We're extremely grateful to the Arts Council for our Culture Recovery Fund grant which has allowed us to experiment with new ways of generating income. The next few weeks are going to be exciting as we're looking for both designer for a new online escape room experience, and a new catering partner for a street food opportunity on our Piazza. While our Tunnel Shaft is closed for events during lockdown, we are accepting bookings for filming and photo shoots in this evocative atmospheric space.
As well as coronavirus, 2020 saw Black Lives Matter protests across the world, and museums and their staff have stepped up their efforts to tackle racism and discrimination in all its forms. January saw the anniversary of the New Cross fire and Holocaust Memorial Day, reminding us about the importance of acknowledging and taking action against racism closer to home. As a museum we are continuing to focus our attention on how to remove barriers and be actively antiracist, starting with training for all staff and trustees later this month. 
We are also looking at how we can tell the broadest possible stories relating to the Thames Tunnel. Today marks the first day of LGBTQ+ History month and we'll be sharing a brand new series of videos telling the story of how the tunnel became a site for same-sex meetings and relationships in the 1850s. Next month, we're celebrating St Patrick's Day in style with a new commission telling the story of the Irish workers who built the tunnel. Sign up to our newsletter and follow our social media channels to stay up to date.
________________________________________________
If you would like to be part of shaping the future of the museum, please .
If you wish to show your support for the museum, please ,   and/or peruse .
If you want to keep up to date with Brunel Museum news, please  and follow us on Social Media:   /  /  / . You can also .
Thank you.