The Brunel Museum has secured two grants towards research and conservation of its textile collection. The first grant, from the Costume Society, will go towards the conservation of a kerchief on display in the Museum for many years, before being transferred to secure storage at the London metropolitan Archives.
In the Brunel Museum's collection are two silk handkerchiefs, commemorating the Thames Tunnel. Both are believed to have been sold as souvenir in the Thames Tunnel during its time as an underwater shopping arcade in the 1840s.One was conserved in 2017, supported by a grant from the Textile Society.
The second, a Madeline Ginsburg Internship grant, will support Museum volunteer and textile historian Katie Anderson to research the Museum's textile collection.
"I am so excited to be working with the Brunel Museum again on this research project, having volunteered with them previously. I look forward to seeing what I can uncover about these surviving souvenir textiles of the Thames Tunnel. Thank you so much to the wonderful team at the museum and the generous internship grant from the Association of Dress Historians." – Katie Anderson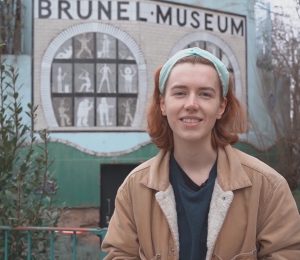 "We're delighted to have received these two grants. Without dedicate collections expertise in our small part-time team, we rely on external expertise and project funding such as this. We're really looking forward to seeing what Katie is able to find out before we redisplay the collection in 2024" – Said Katherine McAlpine, Museum Director