Nominations are now open for the Kids in Museums Family Friendly Museum Award 2022!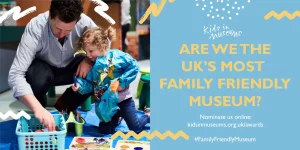 Each year Kids in Museums puts the power in families' hands to crown the winner of its annual Family Friendly Museum Award. The award recognises museums, galleries and heritage sites that go the extra mile to provide a great experience for children, young people and families.
Since we've reopened the Brunel museum, we've tried to make our Museum as family friendly as we can.
If you would like to support us and share why you think the Brunel Museum is the Best Small Museum for families, please nominate us filling in the online form on the Kids in Museums website: Family Friendly Museum Award – Kids in Museums
The deadline for nominations is 5pm on 6 June 2022.
In June, an expert panel will whittle down the nominations to a shortlist.
For more information on the Family Friendly Museum Award, visit the Kids in Museums website: www.kidsinmuseums.org.uk/awards