We have been working hard behind the scenes to adapt our unique cocktail garden to keep our guests and staff safe during this time, whilst maintaining the magical atmosphere that you love. As a result we will be opening for strictly limited numbers from Friday 31st July. Booking is essential so follow the link to get your tickets!

Our site will be divided into two spaces- the cocktail garden, with limited numbers of 30 people, and the Piazza- a sun-dappled terrace tucked alongside the Brunel Museum amongst Rotherhithe's cobbled streets. Delicious food will be available courtesy of our friends at The Mayflower.
The Piazza will be open Thursday – Sunday, and a 2-hour slot must be pre-booked. Tickets are free of charge and you will be able to purchase our award-winning cocktails or a locally-brewed beer, which will be delivered to your table.
Friday & Saturday nights will feel like summers gone by, as we offer wild cocktails and more in the cocktail garden, with a socially-distanced guided tour of Brunel's Thames Tunnel Shaft, deep below our feet. Tickets for a 2-hour session cost £7 and proceeds go to the Brunel Museum.
Alternatively, if your ideal Sunday afternoon would be spent in a hidden urban wilderness with a drink in your hand, then book a free 2-hour slot on a Sunday, where we will be offering cocktails, mocktails, wine and beer in our beautiful garden.
PLUS… We will be offering 'buy one, get one half price' on cocktails  between 5pm – 7pm every Friday!
We will have table service (with a table ordering app), one-way signage, plenty of hand sanitiser everywhere and everything in place to welcome you back and keep you safe.
Tickets: https://midnightapothecary.designmynight.com/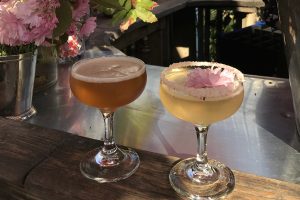 PRIVATE BOOKINGS ALSO AVAILABLE
Our secret rooftop garden is situated above Brunel's underground entrance to the Thames Tunnel, one of the city's engineering masterpieces, hailed in Victorian times as 'the eighth wonder of the world'. We are known for our wild cocktails using ingredients grown in the garden or foraged close by and pride ourselves on using premium local alcohol distilled or brewed in Bermondsey such as Jensen's gin, Hiver Honey Beer, Anspach & Hobday and the Kernel Brewery. Our non-alcoholic sodas hail from award-winning local Square Root Soda.  Lottie Muir aka The Cocktail Gardener transformed this neglected space in 2012 into an edible oasis in the heart of Rotherhithe village by the Thames.
Why not book the whole garden exclusively for you and up to 30 guests on a Sunday afternoon? Contact us for more information: lottie@themidnightapothecary.co.uk
_________________________________________________________________
If you would like to be part of shaping the future of the museum, please visit our Community Consultation page.
If you wish to show your support for the museum, please donate via Virgin Giving to our Covid-19 Crisis Appeal,  visit our Support Us page and/or peruse our Online Shop.
If you want to keep up to date with Brunel Museum news, please check out our News page and follow us on Social Media:  Twitter / Instagram / Facebook. You can also sign up to our newsletter here.
Thank you.