Visitors can step back into history and into a giant version of one of the Museum's objects this half-term at the Brunel Museum. The Museums terrace will be transformed, as visitors will be invited to step inside a giant peepshow.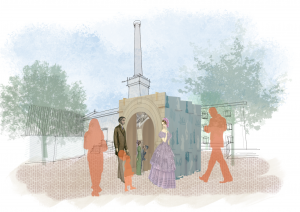 Inspired by the Museum collections, Central St Martin's student Tara Corovic  recreated the historical peep show. Peepshows like the one on display at the Museum  were made to allow the viewer to see a scene both in miniature and in-depth. Detailed and cheap to produce, this specific peepshow was likely created and sold to help raise money to finance the continue construction of the Thames Tunnel.
Families can also pick up their own version to make at home.
The Thames Tunnel was considered to be the 'Eighth Wonder of the World' when it opened in 1843.  The Tunnel was used several times for Fancy Fairs when magicians, sword swallowers, tightrope walkers, and fire eaters were entertaining people in the Thames Tunnel.
The giant art installation is entirely free to visit. Visitors to the Museum can see how the Thames Tunnel was constructed. Tickets to the Museum cost £6 for adults, £4 for children and concessions and includes a tour of the Garde II* listed Thames Tunnel Shaft.