Brunel Museum staff and volunteers have been recognised in the Association of Cultural Enterprise Awards at a Gala Dinner Awards Ceremony as part of the Association for Cultural Enterprises conference.
Event Coordinator Alicja Sobczak has been recognised as a Cultural Enterprises Rising Star Award, and volunteer Gill Howard became the first ever recipient of the Jill Fenwick Award for Outstanding Contribution.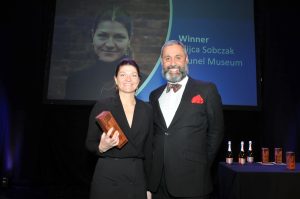 The judges said of Alicja Sobczak, "Alicja's dedication, professionalism, team spirit, understanding of the museum's mission and values, and immense commercial nous clearly make her a rising star in our sector."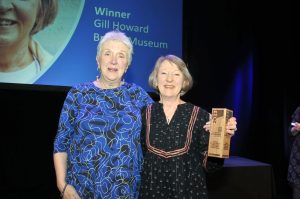 The judges said, "With so much passion and enthusiasm, Gill has had a hugely positive impact at the Brunel Museum with only a small budget. Every organisation needs a Gill Howard!"
Dana Skelley, Chair of Trustees, said, "It's great to see the Museum team being recognised by such a renowned association as ACE. The trustees are immensely proud of our dedicated volunteers and Gill Howard's dedication and knowledge are clearly outstanding. Alicja Sobczak has precisely the right qualities and talent to get the very best out of the Museum's fantastic cultural space – she has risen to the challenge of Event Coordinator brilliantly."
The Cultural Enterprises Awards celebrate success and creativity across all areas of sustainable income generation in the arts, heritage and cultural sector. The Awards recognise success and innovation across a range of categories from retail to newer revenue streams and sustainability, as well as individual talent. The winners were announced at a Gala Dinner Awards Ceremony on 10 March at Royal Hall, Harrogate, as part of the annual Cultural Enterprises Conference.