During #WomensHistoryMonth we're sharing the stories of women who made engineering history: from the lesser known Brunel women, trailblazing female engineers from the past or the women making history today. Today's post is from our volunteer Gill Howard and is about Marc's first child, Sophia Brunel 
Sophia Macnamara Brunel (b. 30 April 1802, d. 17th January 1878)
We do not know a great deal about Isambard's older sister Sophia. Like many women of her class and time, they were often defined by the men in their lives. Daughters were expected to make a good marriage and then to produce the heirs. Sophia did indeed make a good marriage but there is more to her than that!
She was the eldest surviving child of Marc and Sophia Brunel born in 1802.  When she was about one year old the family lived in Britain Street, Portsea where in 1806 her brother Isambard was born. In 1807 the family moved to London, to 4 Lindsey Row in Chelsea.
Sophia grew up in what seems to have been a happy and loving family. Through her father's work they became very well connected, with many eminent figures amongst their circle of friends, including Charles Babbage, Sir Humphrey Davy, Michael Faraday and Earl Spencer. They were known to have been guests at Althrop House the magnificent family seat of the Spencer family.
On Sundays they usually went to visit their friends the Hawes family in Lambeth who had a family business making soap. The younger son William became Isambard's closest friend and when she was 18, Sophia became engaged to the eldest son Benjamin. They married on 11th October 1820. Benjamin stood as MP for Lambeth and went on to be Under Secretary for the Colonies; Deputy Secretary at the War Office and Permanent Secretary of State in the War Office. He was created Knight Commander of the Order of the Bath in 1856 and died in 1862.
Like her brother Sophia was clearly both intelligent and artistic. It was said that she was 'a remarkably talented woman who understood her father and brother's plans' she was once described by Lord Armstong as 'Brunel in Petticoats'! If that is the case, one wonders just what she could have achieved if the opportunities had been open to her. She became a celebrated painter of porcelain and below is an example of her work. The photograph is taken from a Bonham's catalogue in 2011 when these items came up for sale.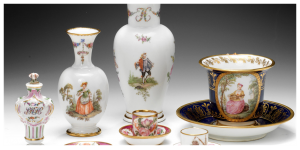 As far as we know, Sophia had six children, Sophia Brunel Hawes born on 31st March 1822, Benjamin Park Hawes born in 1828, Sarah Hawes in 1830, Isambard Brunel Hawes born on 31st January 1831 (died 24 November 1831),  Arthur Hawes born in 1832 and Maria Hawes in 1834.
Sophia Macnamara Hawes died on 17th January 1878 at the age of 75.
By G. Howard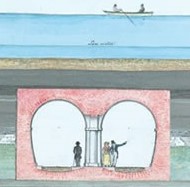 The couple in the tunnel in this watercolour are thought to be Sophia and Benjamin Hawes (with William Hawes and Isambard Kingdom Brunel in the boat above, and Marc Brunel in the other side of the tunnel).
__________________________________________________________________________________
Want to support our Museum? Please donate using the link below – or better still, become a Friend and keep in touch!