March is #WomensHistoryMonth and we're sharing the stories of women who made engineering history: from the lesser known Brunel women, trailblazing female engineers from the past or the women making history today with their feats of engineering. Today, Cate Anthony, reflects on a career following in Brunel's footsteps underground.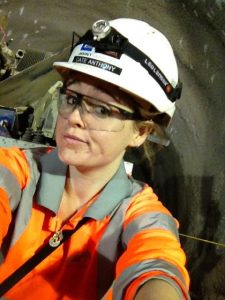 As a young girl I loved doing DIY with my Dad. I remember after a long day working on the house, we would watch engineering shows as a family. Dad's favorite engineer was Isambard Kingdom Brunel. Brunel was the pioneer for so many types of engineering and really made his mark on Britain. My parents brought me up to believe I could be anything: I wanted to be like Brunel!
I started my career in tunnels purely by accident. When I first started studying civil engineering at Cardiff University, I wanted to build bridges and skyscrapers. I found Brunel's Clifton Suspension Bridge amazing. The enormity of the structures fascinated me, and honestly still do. After summer placements with BAM Nuttall working on the enabling works for Olympic Park my team moved to the station upgrade at Tottenham Court Road.
I was really nervous when someone told me I'd be working underground. I thought it would be cramped and dark and dirty. I held in my head some of the memories from the shows I'd seen about the Thames Tunnel construction. It was a risky and challenging venture for I.K.Brunel and his father. I jumped into my challenge with both feet. The tunnelling industry is nothing like I'd imagined it would be. The tunnels I have worked on are big and bright. I have never ever felt closed in even in our smallest tunnel.
My favorite thing about the tunnelling industry is the comradery. I like to think it's the same as it was during the construction of the Thames Tunnel – everyone working together towards a common goal. You are working underground with people for around eight hours a day. They become like your other family. I have met some of my closest friends through tunnelling, I feel very lucky to have them in my life!
My roles over my career have been varied. I have worked for both consulting and contracting engineers. This has given me a real all-round view of the industry. There are some incredible puzzles to be solved in every role on every project. Whenever I am faced with something I haven't seen before and am struggling to find a solution to, I think of Brunel. When building the Thames Tunnel, he faced significant challenges through collapses and unexpected ground conditions. At one time he almost lost his life in a tunnel flood. But he never gave up. And if I'm ever faced with something that seems impossible – I will not give up.
As discussed in the first blog post, it has always considered bad luck to have a woman in a tunnel. I was told that this is because St Barbara, the patron saint of miners and tunnellers is a jealous lady and didn't want to share her domain with any other women. However, I like to believe she's watching over us and cheering us on during our day to day life. While it may be bad luck to have a woman in a tunnel – I certainly feel lucky to have fallen into this phenomenal career.
I feel very privileged to be a part of a dynamic and engaging industry, that rather ironically, is never boring!